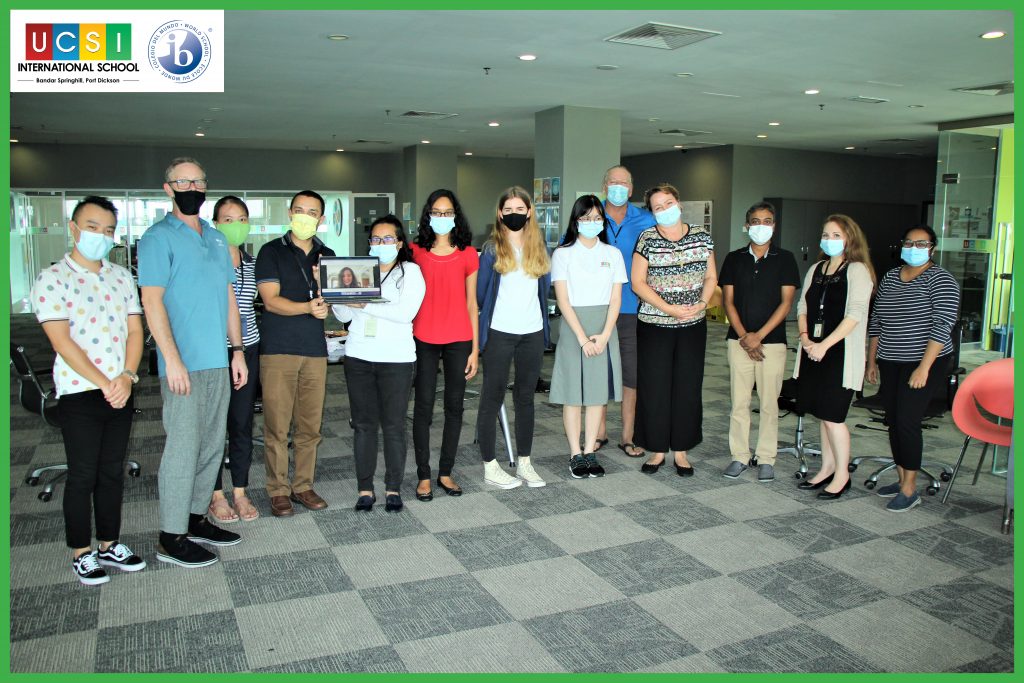 In conjunction with World Soil Day 2020, UCSI Group SDG Secretariat Office and its partners, UCSI Living Lab, UCSI International School Subang Jaya, UCSI International School Springhill, Sri UCSI School, The Blue Ribbon Global, the Permaculture Education Institute, Australia and Potato Productions, Singapore co-organised a few events to commemorate the day.
The first was a webinar titled "Keep Soil Alive, Protect Soil Biodiversity" on 4 December 2020 via Zoom. The purpose of this event was to raise awareness about the importance and ways to improve soil health as it affects the quality of the food we eat and prevents biodiversity loss.
There were 280 participants and students received an e-certificate for participation. Speakers were Morag Gamble – Permaculture Ambassador and Founder of Permaculture Education Institute, Australia; Norani Abu Bakar – Executive Director SDG Secretariat Office, UCSI Group and Strategic Advisor of UCSI Living Lab; Maia Raymond – Co-founder of PermaYouth and Tony Dal San Lian – Co-founder of Teens4CAP and Youth Trainer at UCSI Living Lab. Each speaker shared their experiences and knowledge on tips and tricks of soil care and management. 
The second event was the World Soil Day workshop titled "Care for the planet, starts from the ground" held on 19 December 2020 via Zoom. There were group discussions on usefulness of edible plants, analysis on how soil affects plant growth and discussion on ways to increase soil health. The eighty teen participants were local and international students from UCSI International School Springhill, UCSI International School Subang Jaya, Sekolah Sri UCSI, and around 15 came from countries such as Australia, Myanmar and Indonesia.
The 19 small group discussion facilitators were from The Blue Ribbon Global network from Philippines, Iceland, Indonesia and Australia, e.g. Permaculture Association of Malaysia, PermaYouth and Permaculture Institute of Australia, Green Releaf, Philippines and UCSI Schools.
The teens and facilitators were grouped into 10 breakout rooms. Together, they shared about their edible garden plants and described the types of soil in which their plants grew and their organisms. This was also shared weeks ahead at a FB page and Google Classroom created for this teen celebration. Based on the World Soil Day official video, the teens reflected on the importance of lively soil and how they can preserve soil health.  
The last event was the World Soil Day Photo/Video with slogan competition from 26 November to 10 December 2020.  The 5 cash prizes of RM100 each for this competition was sponsored by The Blue Ribbon Global to advocate its commitment to "Peace with the Planet". Over 30 teens participated. The judges came from UCSI College and UCSI SDG Office.
Their videos and pictures were related to soil care activities such as composting, gardening, planting seeds, etc. For UCSI School students, these activities supported the schools' effort to fulfil the SDG goals and the Eco-School's objectives. Additionally, this activity also allowed them to demonstrate ATL skills and the IB learner profile attributes, and at the same time, improve their mental health during CMCO. Out of the top 5 winners, 3 of them were from UCSI SH – DP 2 student Liesbet Ooghe and MYP5 students, Crystal Huang Xiaohui and Maria Chan Ruyi. The award ceremony was proudly witnessed by the school management team and teachers.
Along with cash prizes, winners also received World Soil Day certificates from the UCSI Group SDG Secretariat Office, appreciation certificates from UCSI International School Springhill and gift bags personally from Kumutha Chelliah (Eco-School Coordinator). The co-organisers would also like to thank the Zoom host for these events, Potato Productions, Singapore.