Extreme climate change, biodiversity loss, and pollution all have an impact on our one and only planet, and finding solutions to these issues will necessitate societal transformation. In 1974, the United Nations Environment Programme (UNEP) established World Environment Day (WED) to address this pressing need. It is observed every year on 4 June. This year, the UCSI SDG Secretariat Office decided to join the global community in taking tough measures to address environmental degradation, such as the recent flash flood and soil erosion, which claimed many lives, jeopardised food security, and damaged property. These actions will raise awareness and capacity for caring for our Mother Earth, and thus our resilience for a better life today and in the future.
The celebration was held on 4 June 2022 and attended by more than 36 participants which included UCSI University, UCSI College students and lecturers. It was held in Block G of UCSI University. This WED event aims to raise participants' awareness and action for CO2 sequestration and soil erosion prevention through the planting of trees and cover crops. Ms Norani Abu Bakar, Executive Director of UCSI Group SDG Secretariat Office, and Ms Chin Wen Yen, Advisor of Green Up Project, one of Youth Beyond Boundaries' three environmental initiatives, facilitated the event.

The activities exposed participants to the importance of healthy topsoil for plant growth and the usage of plants in enforcing slopes and riverbanks. For understanding topsoil, participants learnt the benefit, the cycle, and the sustainability of vermicomposting. For soil erosion prevention, the participants got the opportunity to plant vetivers at a few sloppy locations around the UCSI's Cheras campus.
UCSI SDG Office hopes to make the celebration of World Environment Day as its flagship program.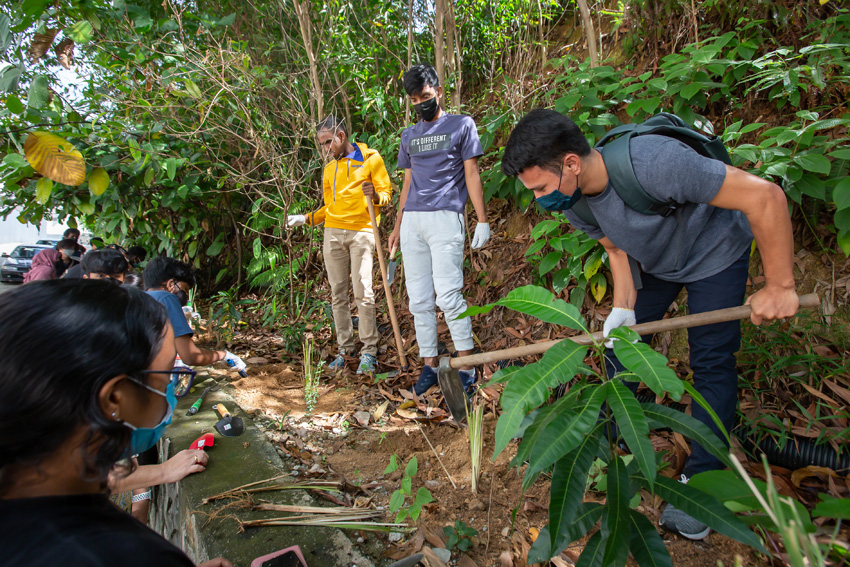 The activities taught participants the value of healthy topsoil for plant growth as well as the use of plants to reinforce slopes and riverbanks. Participants learned the benefits, cycle, and sustainability of vermicomposting to better understand topsoil. Participants were given the opportunity to plant vetivers in a few sloppy areas around the UCSI Cheras campus to help prevent soil erosion.

The UCSI SDG Office hoped to make World Environment Day its signature programme in the future.