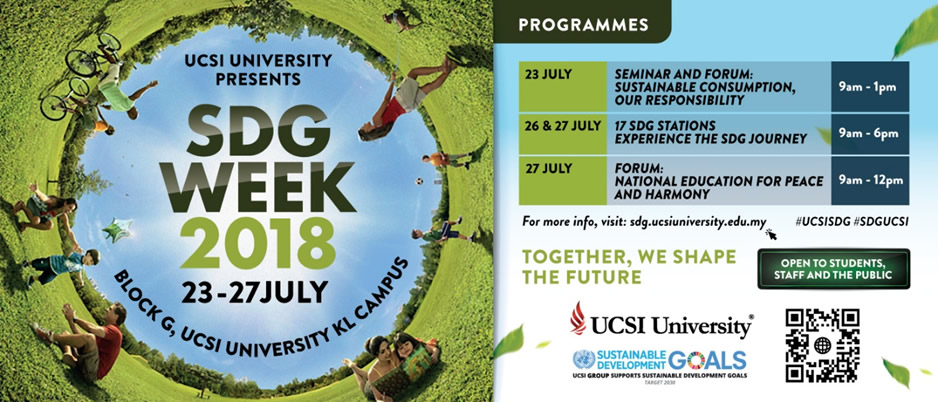 In keeping with the worldwide effort to implement the Sustainable Development Goals (SDGs) for a better future, UCSI University is organising its SDG Week 2018 from the 23rd to 27th July at the University's KL campus.
The aim of UCSI's SDG Week 2018 is to spread awareness and educate the masses about the importance of the SDGs to the community, especially young people.
The SDG Week 2018 was officiated by the Vice-Chancellor and President of UCSI University, Senior Professor Dato Dr Khalid Yusoff.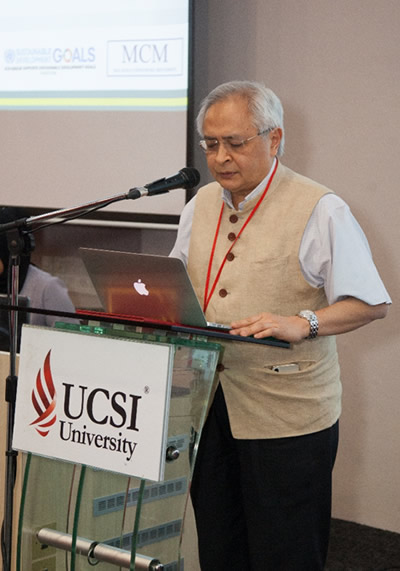 "The SDGs have become a global agenda seeing that the United Nations has mandated that all 17 Goals should be achieved by all countries by 2030. With the recognition that UCSI University is the top private university in Malaysia, and one of the top 10 best universities in Malaysia as well as one of the top 500 universities in the world, UCSI continues to enhance its academic achievement and industrial engagement," said UCSI University's Vice-Chancellor and President, Senior Professor Dato' Dr Khalid Yusoff.
"At the same time it nurtures the worldview of its staff and students such that they are well-prepared to contribute to a better and meaningful future for the society. The SDGs provide the space for this effort and UCSI will continue to champion this agenda. The SDG Week 2018 is held to consolidate the awareness and preparedness of staff and students to inculcate the SDGs as a lived experience in UCSI," he continued.
The first forum was held on July 23rd titled 'Sustainable Consumption, Our Responsibility', where the main focus was on smart consumer habits featuring speakers and VIPs from UNESCO, Tesco Malaysia, Consumer Claims Tribunal Malaysia, Waste Management Systems Sdn Bhd, UM and USIM.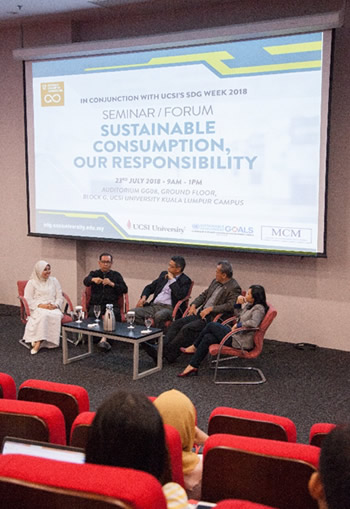 In his opening speech, President of Malaysia Consumer Movement, Darshan Singh Dillon expressively illustrated his concern that Mother earth "is in pain" and that we have to "ease her out of her misery".
His expectations were that the participants of the forum would leave with a commitment and promise to be better consumers. He also said that we should rise together and make a difference not because we have to, but because we want to.
This was followed by a speech by Consumer Claims Tribunal Malaysia Chairperson, Ministry of Trade and Consumer Affairs, YBhg. Wan Rufaidah Dato Haji Wan Omar. She was impressed that UCSI is among the few universities promoting and advocating the SDGs.
She posed the question of: Will the future generation have access to resources like us now? Her advice was to act now and stop the damage while consuming less, and consuming responsibly."Be responsible not only for ourselves, but for future generations," she said.
"Congratulations to UCSI and MCM in your initiatives. All the best in educating people on SDGs internally and externally," she added.
In his keynote address, 14th President of the UNESCO-Affiliated International Association of Universities (IAU) and Chairman of Islamic Science University of Malaysia, Tan Sri Dato Dzulkifli Abdul Razak, gave a talk on how sustainable consumption is everyone's responsibility, highlighting the worrying fact that every year during the month of Ramadan a total of 270,000 tonnes of food go directly into the dustbin and if stacked, would be the equivalent of 30 KLCC buildings.
Waste Management Systems Sdn Bhd Executive Chairman, YBhg Dato' Mizan Yahya addressed the issue of rewiring consumerism and how to look at it as a personal investment that needs to be fully understood.
University Malaya's Associate Professor Dr Sumiani Yusoff of advocated sustainable consumption based on the integrated approach of Refuse, Rethink, Reduce, Reuse, Recycle, Repair and Recover.
Tesco Malaysia Corporate Services Director, Azliza Baizura Azmel pledged to reduce food losses and food waste across production lines, and to reduce the use of plastic bags; instead using recyclable items for the packaging of Tesco products.