The Young Peacemakers UnConference took place on September 27, 2019 at the UCSI University Ballroom and Recital Hall with a total of 225 participants, all UCSI students. This event was organised by the UCSI SDG Secretariat Office with the support of other partners. The event was divided into the morning session and the afternoon session. The morning session took place at the UCSI University Block E Ballroom from 8.30am to 1.30pm.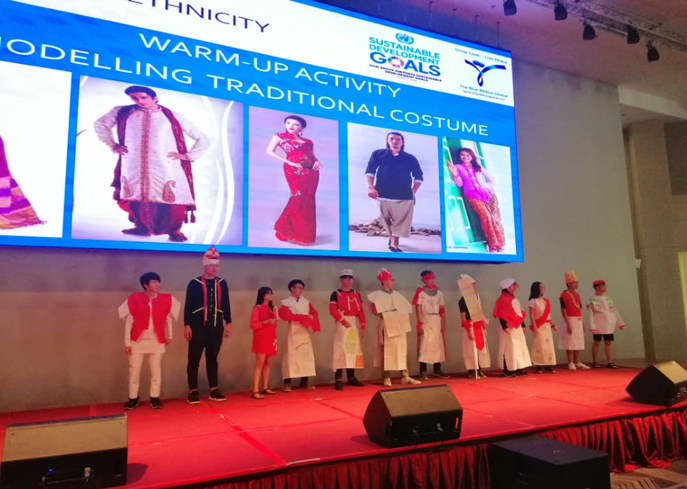 In this session, participants were divided into 12 groups and each group had 10 to 12 members. Each group was tasked with making dresses from different ethnicities which were randomly picked by the group leaders. This activity helped the participants learn more about other ethnicities and get the opportunity to display their dresses on stage.
In addition, there were presentations from the 3rd and 4th winners of the "My Future Malaysia: Aspiration and Action" competition organised by the UCSI Faculty of Social Science and Liberal Arts (General Studies), and also the "Activator: Climate Change and Peace" presentation by CAREvolution. This session rounded up with lunch prepared by Le Quadri Hotel.
The afternoon session took place at the UCSI University Block G Recital Hall from 2.30pm to 5.30pm. This session had presentations for the Tan Sri Omar Harmony award and also presentations from the 1st and 2nd winners of the same "My Future Malaysia: Aspiration and Action" competition.
During this session, there was also a splendid performance from the Ruth Education Choir and also a piano rendition performance by the UCSI's Institute of Music students. The session rounded off with a certificate and gift presentation by Tan Sri Omar and a photo-taking session with all participants, partners, and organisers of the event.
At this event, 4 UCSI staff who completed their Peace and Unity in Diversity facilitators training were presented a certificate by Tan Sri Omar. Here are the names of the staff who received the certificates: