UCSI University was conferred the Appreciation Award for its contribution to the Sustainable Development Goals at the International Conference on Sustainable Development 2019 at Wisma R & D, University of Malaya held on February 22, 2019.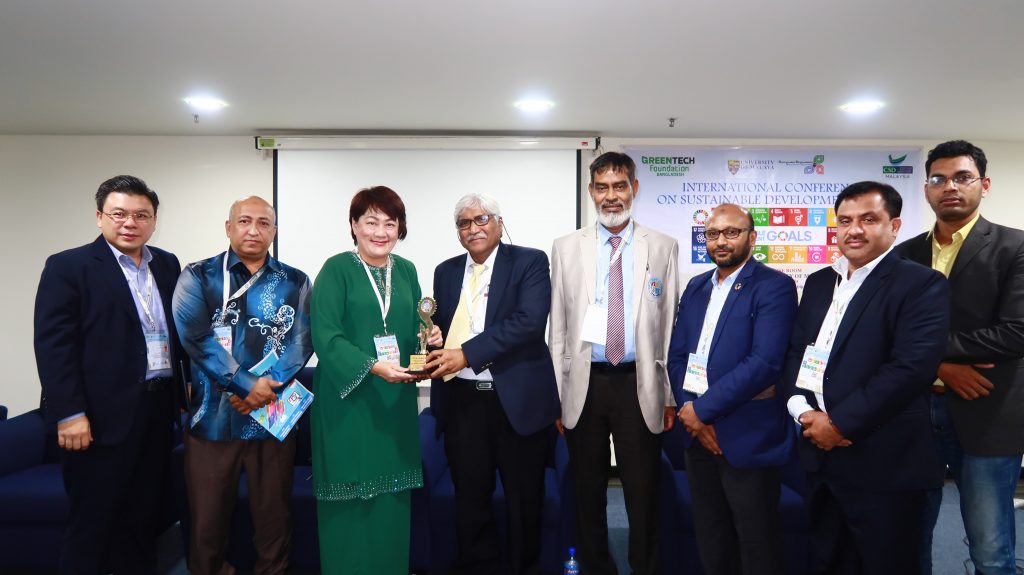 On hand to receive the award on behalf of the Vice-Chancellor was UCSI Centre for Languages director Margaret Soo Boon Yoke, who accepted the award from GreenTech Foundation (Bangladesh) CEO, Lutfor Rahman.
"Education, in our role, is to give our children and students a better future and hand them a world which is a better place," she said.
She recounted how two years ago the University Council decided to take action on the SDGs, and realised there were lots of sustainability challenges.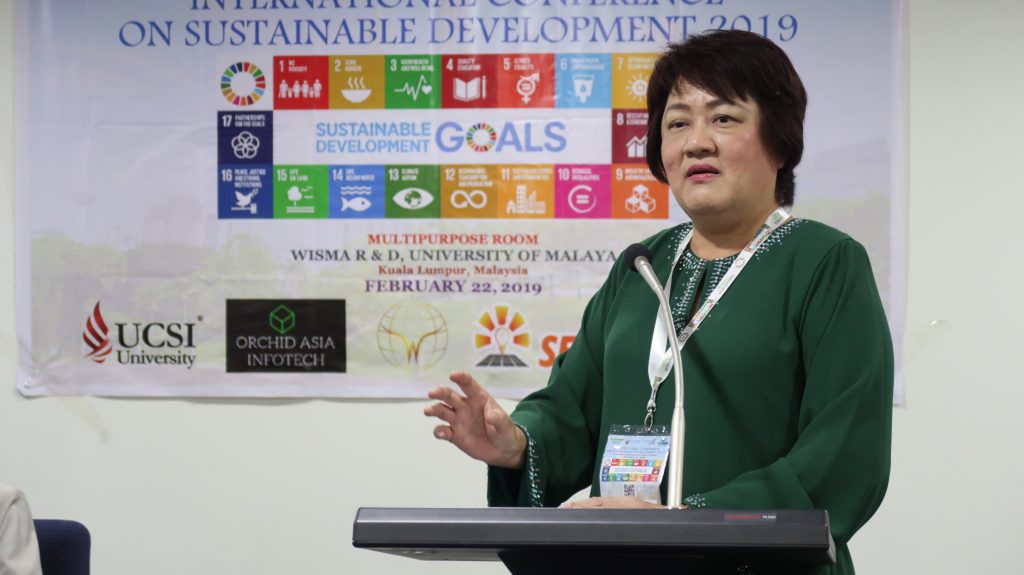 "We decided that we would become a regional centre for SDG excellence within one year and that every faculty needs to appoint a cluster of people doing research to focus on the SDGs," she said.
She explained that SDGs are about practising good habits and having people around us to get involved as well.
"The Sarawak campus students initiated their own plastic-free initiatives and boycotted shark-fin soup serving restaurants while our English team did a secondary school essay competition writing about SDGs and 'going green'. They wrote about everyday issues related to food, paper and electricity wastages as well as water conservation," she added.
"We get them involved now so that when they move into university, they are more aware of the SDGs. Once there, their inquisitive minds will ask about green technology and recycling – our young people are starting to look into all of this, and we have to create an environment for them to do it with passion and pride," she continued.
Associate Professor Dr Chong Aik Lee, UCSI College Vice President (Academic Affairs) also took the podium and briefly imparted his advice stressing upon the importance of collaboration.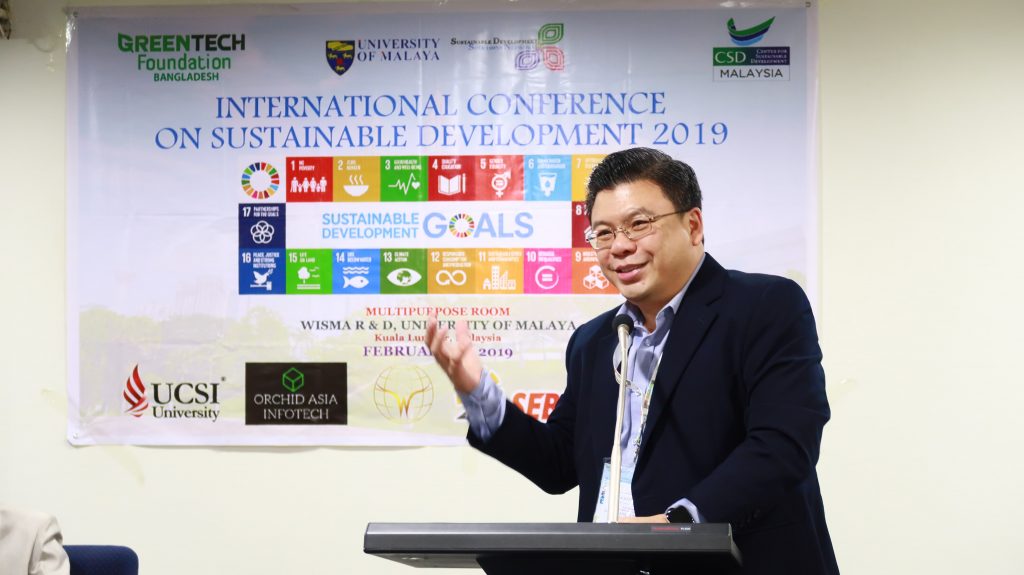 'University-industry collaborations are my passion. Having worked at the intra- and inter-country level, it made me realise that we need four qualities to make SDGs a reality: trust, commitment, financial aid and performance measurement. We need these four elements to achieve the SDG goals. But most importantly – we need to trust and collaborate," he advised.
The International Conference on Sustainable Development conference was organised by GreenTech Foundation Bangladesh with the support of University of Malaya Sustainable Development Solutions Network (UM SDSN), and the Centre for Sustainable Development Malaysia (CSDM).
The conference also saw Dr Atiq Rahman, Champions of the Earth 2008 in Bangladesh and co-recipient of the "Nobel Peace Prize" 2007 delivering the key note speech.
"This conference is multidisciplinary across various fields and perspectives, through which both countries can address the fundamental and related questions of sustainable development," said Dr Atiq Rahman.
'"This interdisciplinary forum is for scholars, teachers, and practitioners from any professional discipline who share an interest in—and concern for— sustainability in a holistic perspective, where environmental, cultural, economic and social concerns intersect," he added.
'This conference is an opportunity for the local and international participants who are engaged in the fields of climate finance to exchange and debate upon the present and future scopes of climate finance," he continued.
The conference was also graced by Former Ambassador of Malaysia to Jordan and Former High Commissioner of Malaysia to Bangladesh, H.E. Dato' Abdul Malek Bin Abdul Aziz and Former Ambassador of Malaysia to Sudan and Namibia H.E. Mustafa Mansor.
Among others present were Maritime Institute of Malaysia (MIMA) Deputy Director General Dr Rizal Abdul Kadir; Department of Environment Malaysia, Ministry of Energy, Technology, Science, Environment & Climate Change Senior Principal Assistant Director, Puan Hajah Dalilah Haji Dali; and Ministry of Economic Affairs, Office of Prime Minister Malaysia Deputy Director, Ahmad Rizal Khalit.
The conference was supported by USCI Education Group Sdn Bhd, Bangladesh Centre for Advanced Studies (BCAS), Orchid Asia InfoTech Sdn Bhd, Tahira Group and Solar Electro Bangladesh Limited.