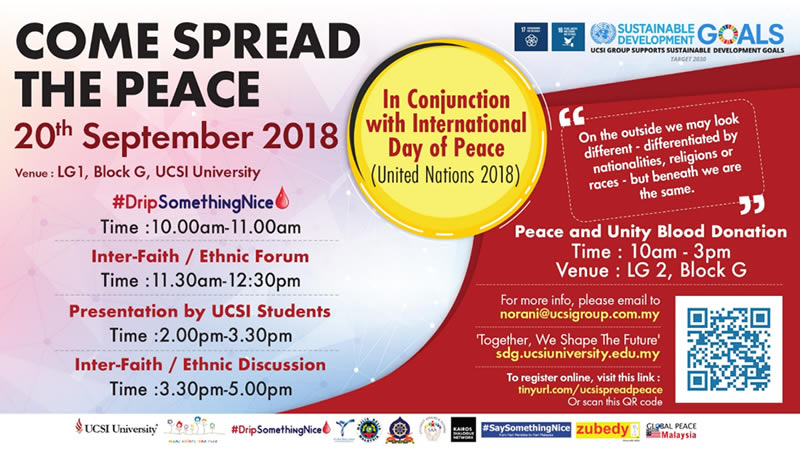 Following up on UCSI University's initiative and implementation of peace and harmony, 'Come Spread the Peace' was successfully held on 20th September 2018 at the UCSI University Kuala Lumpur Campus.
The objective of this event is to spread awareness and provide opportunities among the youth for them to learn and express their opinions in the effort to achieve peace and harmony.
In conjunction with Malaysia's new phase and UCSI's undying effort to uphold SDG 16: Peace, Justice and Strong Institutions (as spearheaded by the United Nations), various programs will be organized during 'Come Spread The Peace'. These include forums, discussions as well as special performances from UCSI students with messages of peace and togetherness.
A 'Peace and Unity' blood donation drive had taken place all day from 10am to 5pm, while the #DripSomethingNice blood donation campaign began from 10.30am to 11.30am in collaboration with Zubedy Sdn Bhd and various religious clerics representing Islam, Buddhism, Hinduism and Christianity. This programme aims to send the message that all of us have the same blood despite our race, religion, and culture.
For the Interfaith Forum presenters, we had Mohamad Raimi Abdul Rahim from ABIM Global Mission Peace, Thai Ming Yiew from Buddhist Missionary Society Malaysia, Nagaranee M from Malaysia Hindu Sangam, and finally, Rev Dr Sivin Kit from Kairos Dialogue Network.
Thai Ming Yiew of Buddhist Missionary Society Malaysia said those who spread hatred or violence through religion are those who made used of religion ostensibly for their personal gain.
"If you look at each religion and study their teachings, you will come to understand that there is no single religion that supports violence. And violence, in the name of religion, has existed thousands of years ago.
"From here, one can only sum up that these people who use religion in the name of violence are people who want something for themselves," Thai Ming Yiew said.
Thai, who is also a representative from the Youth Council, later spoke about the act of volunteerism and how students can inculcate it whilst studying.
Later, there were presentations by a few groups of UCSI students which includes a presenter from the Yemeni Student Club, the Christian Fellowship, and finally, a local student who shares her spiritual journey.
And finally, there was an Inter-Faith and Ethnic Discussion led by an intern from University of Philippines, Joanna De Leon, who raised awareness of Malawi's conditions after the war and encouraged others to practice peace within themselves.
UCSI's Group Corporate Affairs vice president, Leong Sat Sing, had this to say, "UCSI University always strives to educate students in areas of national need to shape a better community. As a higher education institution that practices and teaches the students and staff to embrace different cultures and beliefs, this event is one of our major efforts.
"We want to provide a platform for everyone to share their thoughts and opinions on how to understand each other better because despite our differences, we are all the same.
"In UCSI, 30 percent are international students so we hope they will be impacted and bring the positive change back to their home countries," he said, adding how there are several students from UCSI University who come from war-torn countries and this forum will shed some light on peace, empathy, and unity.
The other associations that are involved in this event are Majlis Belia Negara, EXCO of Malaysian Youth Council, ABIM Global Mission Peace, The Blue Ribbon, Buddhist Missionary Society Malaysia, Malaysia Hindu Sangam and Kairos Dialogue Network.