Led by UCSI student Foo Hui Ying, who is also a member of Youth Beyond Boundaries, The MindFlu Project in support of the SDGs was selected as one of the best three in the Projects for Happiness 2018 by the Khind Starfish Foundation.
The team received RM5,000 in funding for their project which focuses on creating awareness and reducing the stigma of mental health among youth and the general public.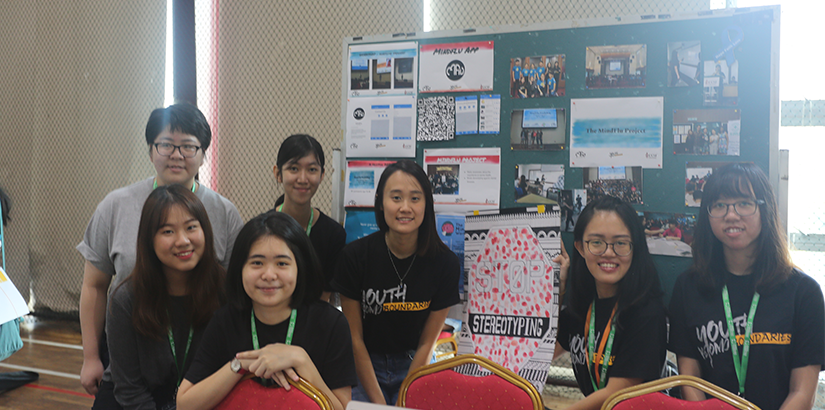 The project has successfully assisted participants from different schools to organise related events in their respective schools. The end goal is to bring this initiative to the larger community.
As a whole, the project is in line with SDG 2 – Good Health and Well Being. Selection of the project as one of the best three in the Projects for Happiness Award 2018 was based on its demonstration of being impactful, sustainable, and creative.
It was with the sole purpose of helping the needy while providing a platform for local university students to be involved in the social welfare of Malaysians, that Khind Holdings Berhad launched "Projects for Happiness" under the banner of its Khind Starfish Foundation (KSF).
As the Chairman of Khind Starfish Foundation, Cheng Ping Keat planned for the "Project for Happiness" to be the major community project of the Foundation. He announced that a fund of RM1 million would be given to support and encourage undergraduates to participate in social and volunteer work, to help the underprivileged in society, and create racial harmony.
With only six themed planned projects which included serving underprivileged communities, education, arts and culture, environmental protection, animal welfare and racial harmony, Cheng was inspired by Kathryn Davis. Davis was an international philanthropist, writer and scholar who set up "Projects for Peace" on her 100th birthday.
After visiting more than 40 universities and colleges nationwide to explain and publicise the "Projects for Happiness" to school administrators, teachers and undergraduates, Cheng found that there were very few students who cared about their society or did volunteer work, and only 5% were willing to do so.
Today, KSF celebrates its fifth year into "Projects for Happiness" and Cheng sincerely feels that it is more blessed to give than to receive. The significance of this project is that it plants good seeds into the hearts of young students and the foundation is hoping these "future leaders" of the country will continue to create harmony and happiness for society.
Participants are required to submit a budget and project proposal with an accent of creativity, effectiveness, feasibility, sustainability, and cross ethnicity. After being called for interview, selected candidates would receive funding by the Foundation with a maximum amount of RM10,000 and are required to raise 15% of their own funds from at least 10 donors.
"As a leading private higher education institution in Malaysia, UCSI University is firmly committed to putting the United Nation's Sustainable Development Agenda into practice; with our 10,000 student population across our Kuala Lumpur, Kuching, and Kuala Terengganu campuses – we see it as our mission to ensure that the university is given a strong role in the implementation of the SDGs.
"To do this, we have launched a series of events, activities and initiatives, which is very much in line with the directions and objectives of the Khind Starfish Foundation. I am very pleased to see two of the projects proposed by UCSI University students selected and sponsored by Khind Starfish Foundation this year," said UCSI University's School of Architecture and Built Environment Professor Dr Mohd Tajuddin Mohd Rasdi.
The second project sponsored was Towards Zero Waste – Feel and Heal, led by our student Regina Leong Zhi Ling, has successfully created awareness among 100 students and teachers of SJKC Ping Ming (Johor) on how food waste is created from our daily eating habits and how to turn food waste into something useful, such as compost.
KSF, according to Cheng, was founded to nurture youth to be compassionate future leaders that would drive the country in the right direction. He expressed his gratitude for the support from all the participating companies and hopes that even more will pool resources together to enable "Projects for Happiness" which would benefit and make the world a better place.